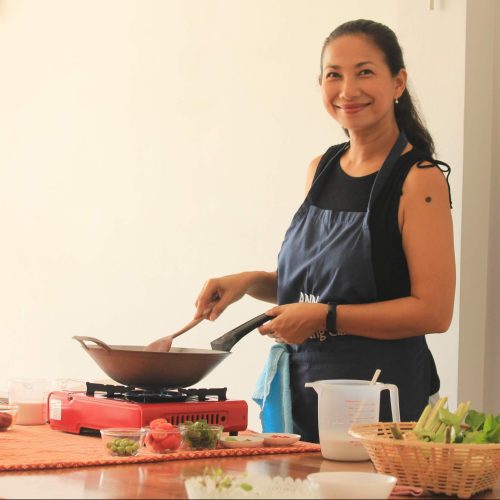 Ann is a cooking instructor and the founder of Ann Khaolak Thai Cooking Class. After having a decade long experience of teaching Thai cooking classes in Germany and USA, she started her own Thai Cooking Class in Khaolak in 2011.
She is born and raised in Thailand and speaks 3 languages, she is fluent in German, English and Thai. She knows her way around the Khaolak area as she spent a lot of time with her relatives here growing up. Her extended travels across the globe – USA, Europe, and many countries throughout Asia – have given her great respect and appreciation for all the different cultures out there. This experience has developed into a different perspective of all the small little things that beautiful Khaolak offers and she would be very happy to share her very own Khaolak with you. She is also an experienced trip organizer in the Khaolak area.
Ann has also worked as Experience Manager at JW Marriott Khaolak Resort and Spa and as freelance guide in German/English for many leading tour companies in the Khaolak area.
Furthermore Ann is studying about food nutrition and learning more about Thai traditional medicine using assorted Thai herbs. She is an ocean lover. She worked as a trip leader for snorkeling with many snorkeling tour companies and she was taken a part of Dive Master Training Certificate Level at Wicked Diving Khaolak.